Tipo AMS 4B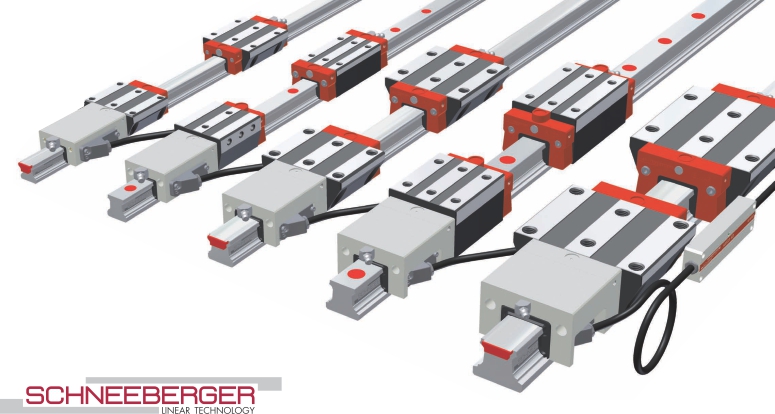 SCHNEEBERGER's MONORAIL AMS 4B is an integrated measuring system for distance measurement for use on all protected machine tool axes with lower machining forces and high demands on system precision. Mechanically the AMS 4B is based on SCHNEEBERGER's MONORAIL BM ball guide with lengths up to 6 metres. The integration of the measurement system allows very compact axes to be put together.
A digital interface with a range of different resolutions for different maximum speeds, and an analog 1Vpp (200 µm signal period) interface are available as interfaces with the control system. Reference marks can be set at 50mm intervals or distance coded.
Different options for carriage lubrication and sealing permit the best possible degree of adaptation to application requirements. The easily interchangeable reading head is identical for all sizes.
Overview of types, sizes and available options AMS 4B Rails
Product overview
---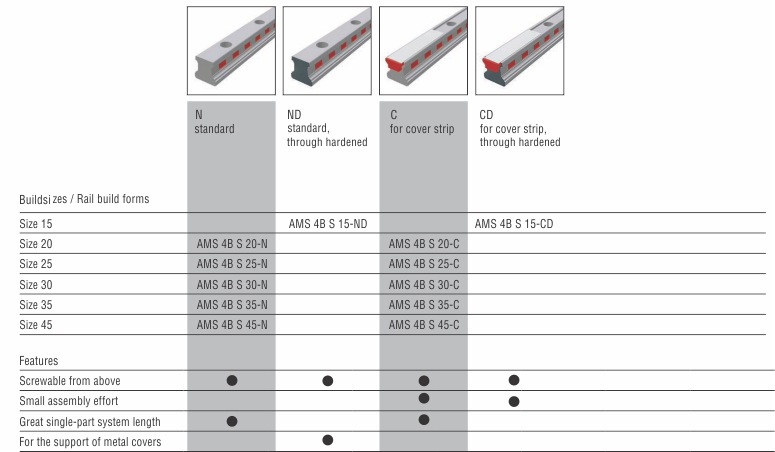 Available options for AMS 4B Rails
---
Details see chapter 2

Overview of types, sizes and available options AMS 4B Carriages
---
Product overview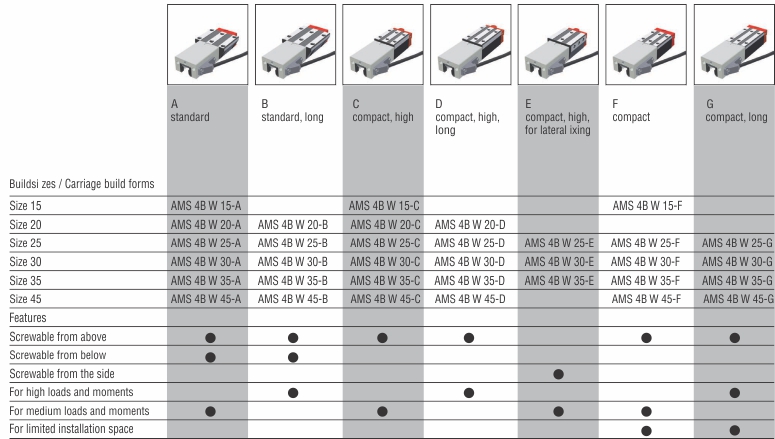 Available options for AMS 4B Carriages
---
Details see chapter 2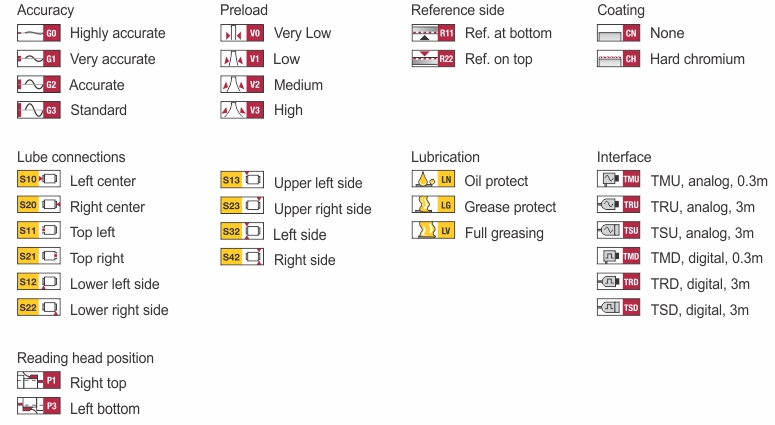 ---
Technical data AMS 4B Size 15

Drawings

---

AMS 4B W 15 Drawings

---

Dimensions

---

Available op tions for AMS 4B S 15

---

AMS 4B W 15 Dimensions and capacities

---

Available options for AMS 4B W 15

---

Technical data AMS 4B Size 20

Drawings

---

AMS 4B W 20 Drawings

---

Dimensions

---

Available op tions for AMS 4B S 20

---

AMS 4B W 20 Dimensions and capacities

---

Available options for AMS 4B W 20

---

Technical data AMS 4B Size 25

Drawings

---

AMS 4B W 25 Drawings

---

Dimensions

---

Available op tions for AMS 4B S 25

---

AMS 4B W 25 Dimensions and capacities

---

Available options for AMS 4B W 25

---

Technical data AMS 4B Size 30

Drawings

---

AMS 4B W 30 Drawings

---

Dimensions

---

Available op tions for AMS 4B S 30

---

AMS 4B W 30 Dimensions and capacities

---

Available options for AMS 4B W 30

---

Technical data AMS 4B Size 35

Drawings

---

AMS 4B W 35 Drawings

---

Dimensions

---

Available op tions for AMS 4B S 35

---

AMS 4B W 35 Dimensions and capacities

---

Available options for AMS 4B W 35

---

Technical data AMS 4B Size 45

Drawings

---

AMS 4B W 45 Drawings

---

Dimensions

---

Available op tions for AMS 4B S 45

---

AMS 4B W 45 Dimensions and capacities

---

Available options for AMS 4B W 45

---